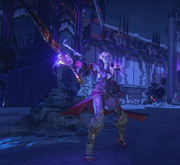 The Tempest is one of the classes available to play in EverQuest Next.
It was demonstrated at SOE Live 2013, described as "storm-flavored". With Two Blades or one Two-Handed Blade, the Tempest dances across the battlefield and unleashes powerful winds and blasts of lightning.[1].
The Tempest is a nature origin class that has lightning and physical damage types.
Tempests have:
Tempest Abilities:
Lightning Strike
Clusterstorm
Spark Rush
Energize
↑ UK PC Gamer, Christmas issue
}}
Ad blocker interference detected!
Wikia is a free-to-use site that makes money from advertising. We have a modified experience for viewers using ad blockers

Wikia is not accessible if you've made further modifications. Remove the custom ad blocker rule(s) and the page will load as expected.