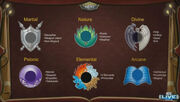 Origins
are categories of abilities in
Everquest Next
.
The origin of a class defines the power source of the class and the visual nature that helps distinguish the look between the different origins. So far, most classes consist of two origins and two damage types, an exception being the wizard which has three damage types.
There are six confirmed origins to date:
Ad blocker interference detected!
Wikia is a free-to-use site that makes money from advertising. We have a modified experience for viewers using ad blockers

Wikia is not accessible if you've made further modifications. Remove the custom ad blocker rule(s) and the page will load as expected.