Esteemed Guild
You are only as good as the people beside you.
Leader
Esteemed has no formal leadership structure as it allows all its members to have an equal say in all the goals of the party.
Region
Oceanic AU prime time.
Focus
PVX Guild.
Style
Hardcore
Server
Oceanic/ AU.
Language
English
Website
Esteemed is a revolutionary new concept in Guild creation. Edit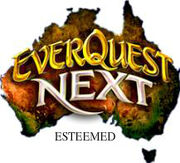 What is Esteemed?
Edit
Esteemed is not your typical guild, as it is a raid party of like minded individuals from different guilds and groups, uniting under the Esteemed banner. In an effort to experience the entire world of EQN, without the limitations of a structured guild.
Description
Edit
Currently, there is no group or organization that exist that is similar to what we are proposing to establish in this community. Esteemed is more of a raid party, then a guild, as all members are from other guilds and clans. The idea of this type of community was inspired by a fictional group called, "Debauchery Tea Party" from the anime "Log Horizon." Where a group of elite individuals quested and raided together for fun and companionship, while still being able to remain in there current guilds or groups. But in saying that, we are not open to the public. So just like any other hardcore guild, we take recruiting seriously. Because we have an obligation to the existing members that have already earned a place in our ranks. So if you're up for some fun and adventure, then feel free to fill out an application for membership on our FaceBook or forum page. Looking forward to questing with you all on EverQuest Next!
Registration and Site
Edit
You can join us on our facebook page! https://www.facebook.com/EsteemedEQN or our official website http://esteemed.clangroups.com.
Ad blocker interference detected!
Wikia is a free-to-use site that makes money from advertising. We have a modified experience for viewers using ad blockers

Wikia is not accessible if you've made further modifications. Remove the custom ad blocker rule(s) and the page will load as expected.